Yahoo Finance

2022.03.30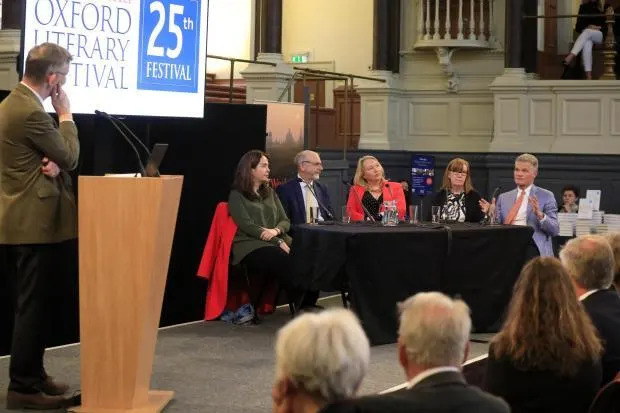 (Picture: Yahoo Finance(Lee Atherton))
Five brilliant scientists whose development of the AstraZeneca vaccine saved countless lives across the world in the Covid 19 pandemic were collectively honoured in Oxford this week.
In an affecting ceremony at the Sheldonian Theatre on Monday the quintet received trophies commemorating their work from the hands of the University Chancellor Lord Patten.
They came in the shape of ceramic cups commissioned from artist Edmund de Waal by the FT Weekend Oxford Literary Festival, now in its 25th year and continuing in an ambitious program till Sunday.
The awards, the festival's first for science and innovation, went to the Oxford Vaccine Group leader Prof Sir Andrew Pollard, the SAID professor of vaccinology Dame Sarah Gilbert, professor of vaccinology and immunology Teresa Lambe, Prof Catherine Green of the Nuffield Department of Medicine's clinical biomanufacturing facility and Sir John Bell, the Regius Professor of Medicine.
Lord Patten said the immense value of their work could not be overestimated, nor should it be overlooked that three of the five were women.
While Oxford held its place in the annals of scientific endeavour in the development, for instance, of penicillin, the creation of the AstraZeneca vaccine "rated with the greatest things that this university has ever achieved".
Measured against the huge value of their work, he said that the modesty of the scientists was remarkable.
The packed audience at the Sheldonian gave a standing ovation to the five, whohad answered questions on their work from the journalist and broadcaster Nick Higham.
Paying further tributes to them all was the Swedish Ambassador Mikaela Kumlin Granit.
Her presence recognised the Anglo-Swedish nature of drugs giant AstraZeneca, whose 'no profit' approach to supplying a billion-plus doses of the vaccine brought worldwide acclaim.