Proposing a Blueprint for a Peaceful World Community
"Just as tugging a single strand of hair sways the whole body,
tugging the heartstrings of love sways the whole world.
As human beings, we are powerless as individuals.
So, we live in mutual love for one another.
True love gives, forgets that it has given, and gives again.
In that way, we must give until all selfishness disappears.
That is when peace will come."
The founders of the Sunhak Peace Prize, Rev. Sun Myung Moon, and Dr. Hak Ja Han Moon have led a lifelong journey toward building a global community and a culture of peace. Rev. Moon (b. January 6, 1920) and Mrs. Moon (b. January 6, 1943) were born in North Korea during the turbulent era of global modernization. The two of them spent a portion of their growing years under Japanese colonialism and experienced firsthand the traumas of the Korean War. They met for the first time in 1960 and married soon after in the same year.
Rev. Moon, centered on his Christian faith, professed a new interpretation of the Bible and emphasized that all world religions must unite centering on one God as the parent of all humanity to achieve a peaceful world. In 1954, he established a new religious movement called the Holy Spirit Association for the Unification of World Christianity (HSA-UWC) in Seoul, South Korea, prior to forming the Family Federation for World Peace and Unification (1997), to carry out the work of realizing God's peaceful world. The fledgling movement started with a small family of disciples in Korea and spread to Japan, the United States, and Europe by the late 1960s. By the end of the 1970s, HSA-UWC had been established in all corners of the world.
The backdrop to this rapid growth lies in the scripture Original Textbook of the Divine Principle written by Rev. Sun Myung Moon, in which he observed that the relationship between God and humankind is akin to that of parent and child and that the principle of human existence lies in the harmonizing power of true love. Based on the Original Textbook of the Divine Principle, an exposition for lecturing to a Christian audience was published under the title Exposition of the Divine Principle in 1957. The Exposition of the Divine Principle has been translated into 34 languages and the message spread to 190 countries. The core contents of the Original Textbook have been further organized into three scriptures, Cheon Seong Gyeong, Pyeong Hwa Gyeong, and Chambumo Gyeong.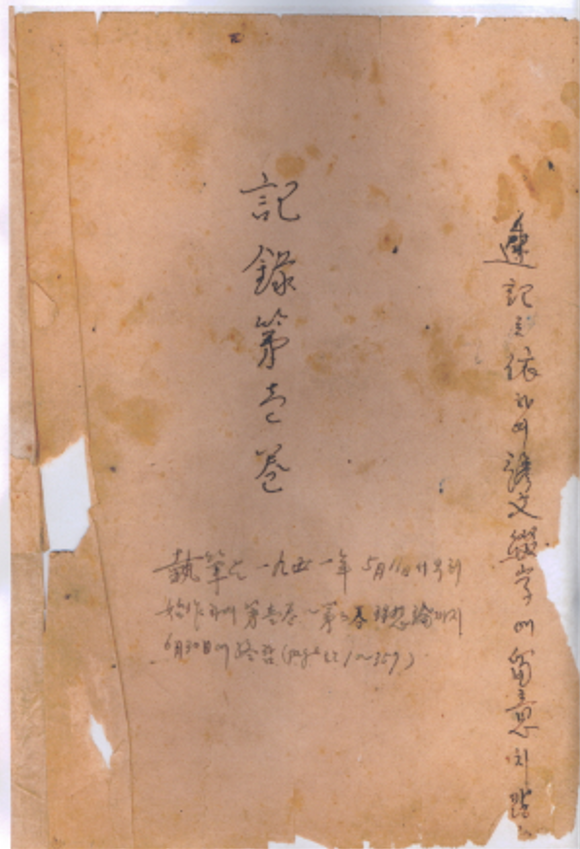 Original Textbook of the Divine Principle (Korean: Wonri Wonbon) written by Rev. Moon in 1951.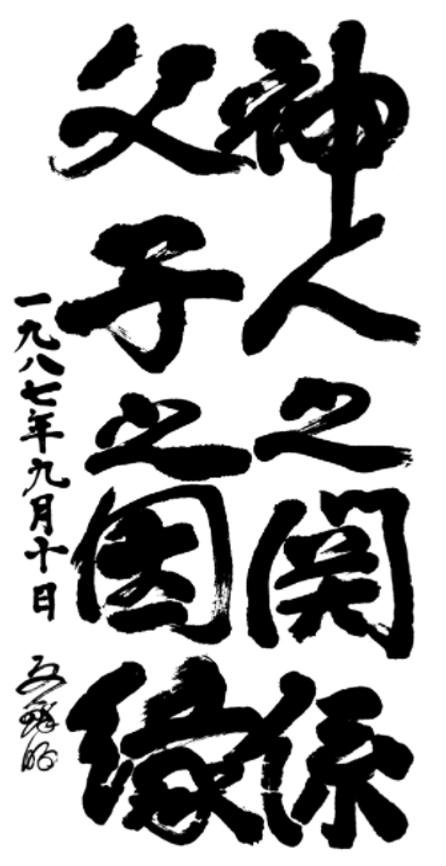 Rev. Moon's vision of peace is expressed as One Family Under God.
Calligraphy: "The relationship between God and humankind is akin to that of parent and child relationship."
Rev. Moon has observed human history, as a whole, from the perspective of God's original creation and presented a blueprint for world peace based on a providential history, rather than political or economic history, of humanity. Long before any discussion of global governance had begun, he proposed a vision for peace that called for the construction of a global community living together as "One Family Under God" in order to realize eternal peace. For this purpose, the founders established various international non-governmental organizations that transcended religious, national, and racial differences so that they could work together in leading the global community toward realizing world peace.
Since the 1960s, Rev. Moon has been holding Blessing Ceremonies, holy marriage ceremonies to become husband and wife centering on God, based on the notion that world peace starts within the family. In the 1980s, he was an avid anti-communist, and in the 1990s, he turned his focus toward education, helping women and children, cultivating the media, and eradicating poverty to address the issue of inequality and build a global village of co-prosperity. In the 2000s, he proclaimed the love of humanity which he believed can transcend religions, nationalities, and races, and also proposed a grand infrastructural project that includes the construction of an international highway to connect the world into one.
In September 2012, after devoting his entire life to God and world peace, Rev. Sun Myung Moon was laid to rest, his life's work having been accomplished. After his passing, his wife, Dr. Hak Ja Han Moon has carried on his legacy and established a coalition of parliamentarians and religious leaders to create models of good governance and strengthen interfaith dialogue.
Rev. Moon's message of peace is a direct calling to revise the nationalistic mindset of the 21st century: "When we reflect upon whether it is possible for true peace to be maintained in one's own country alone, without a shared interest in the happiness and peace of neighboring countries, we realize that it is impossible to conceive of world peace without a love for humanity that transcends nationalism."
In this light, the Sunhak Peace Prize was established in 2013 to recognize and award righteous heroes of our time who have taken the lead in the aspects of sustainable human development, conflict resolution, and ecological preservation, in honor of Rev. and Mrs. Moon's vision of peace and love for humanity.