November 7, 2022
Korean Joongang Daily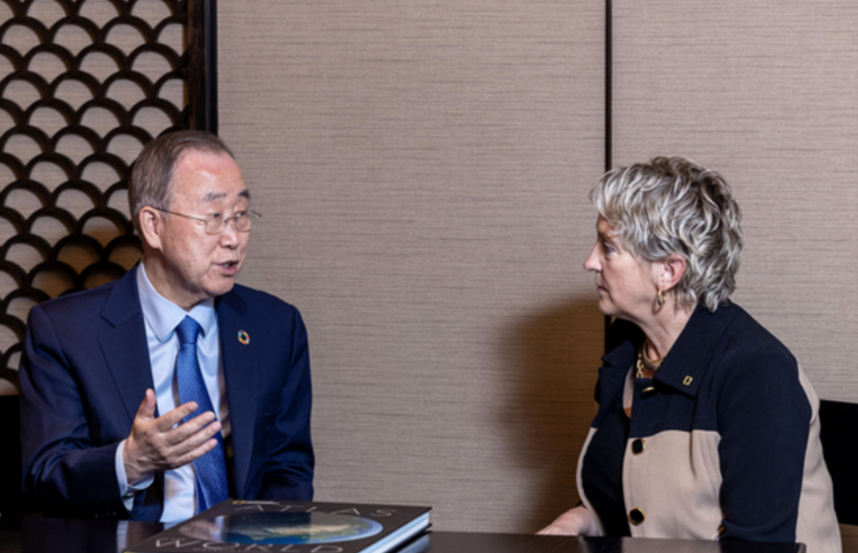 Jill Tiefenthaler, CEO of the National Geographic Society, stressed the need to empower "change makers" on the front lines of the climate crisis, including scientists, educators and the media to deal with the "planetary emergency."
"Both climate change and biodiversity loss are the two biggest threats that we face in our world," said Tiefenthaler in an interview with the Korea JoongAng Daily and JoongAng Ilbo at the Westin Josun Hotel in central Seoul on Oct. 17.
Earlier that day, Tiefenthaler had a luncheon meeting with former UN Secretary General Ban Ki-moon, president of the Seoul-based Global Green Growth Institute (GGGI) and chairman of Ban Ki-moon Foundation for a Better Future.
"We need to treat the climate and ecological emergencies as one planetary emergency"
During their talks, Ban and Tiefenthaler focused on challenges facing the world including combatting climate change, achieving the UN Sustainable Development Goals (SDGs) and supporting women in science.
"We need to treat the climate and ecological emergencies as one planetary emergency," said Tiefenthaler. "They are two sides of the same coin. Global leaders, businesses and individuals can no longer address the climate and biodiversity crises separately."
Ban pointed to extreme weather events occurring in many parts of the world.
He noted that Britain was a country that does not need air conditioning even in summer, but temperatures there exceeded 40 degrees Celsius this summer. In China, a drought caused water levels to drop in the Yangtze River, while in Pakistan, a third of the country was submerged in historic flooding this summer.
"If we do not overcome the climate crisis, the frequency and intensity of natural disasters will increase," said Ban. "In the face of such natural disasters, there are also apocalyptic predictions that the time of the sixth mass extinction will come about, when humans will become extinct."
The importance of addressing climate change should not get lost
The National Geographic Society is a non-profit scientific and educational organization founded in 1888 to increase geographic knowledge. It has a joint venture with the Walt Disney Company, the National Geographic Partners, which oversees commercial activities related to National Geographic, such as magazines and television channels.
Tiefenthaler, an economist, comes from academia and previously served as the president of Colorado College and provost of Wake Forest University. She became the first woman CEO of the National Geographic Society in 2020.
She said in her talks with Ban, they discussed "making sure that climate change and the importance of addressing it doesn't get lost" amid other challenges that the world is facing including "geopolitical issues."
The National Geographic Society Asia Foundation was established in Korea 2015 to support Asian explorers and their research.
During her visit to Seoul, Tiefenthaler met with 25 explorers from across the Asia-Pacific at the National Geographic Society Women's Convening event.
Original article: https://koreajoongangdaily.joins.com/2022/11/06/national/environment/National-Geographic-Society-CEO-Jill-Tiefenthaler/20221106200827128.html