Original Article
Feb 20, 2023
The Gauaridan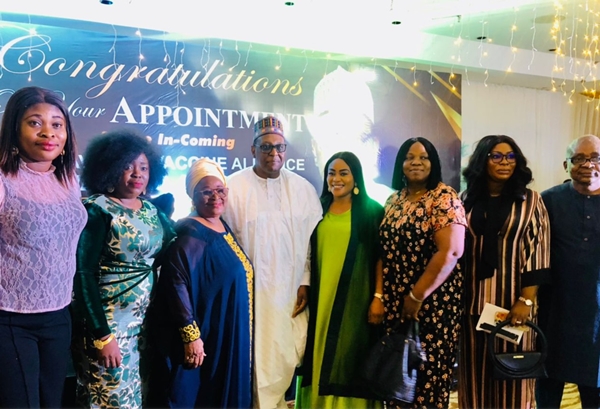 Minister of Health, Dr Osagie Ehanire, has said that the appointment of the former Minister of State for Health, Prof Muhammad Ali Pate as the new Chief Executive Officer (CEO) of GAVI Vaccine Alliance, has improved and brightened Nigeria's chances of commencing local production of vaccines.
He said that Pate's appointment was a validation of confidence the global community has on Nigerian health professionals "because entrusting such a position to Nigeria is also saying something about us", he said.
Speaking at a dinner organized by Friends of Prof Pate to celebrate his appointment as the new GAVI Chief Executive on Saturday evening in Abuja, the Minister, who noted that Nigeria wants to develop a strategy for vaccine production as a matter of urgency, called for a multi-focal approach to vaccine production as a matter of global health security.
Ehanire stated that vaccine manufacturing is a global security, stressing that "we do not know what will happen in any place. But if you look at the impact of the Russia/ Ukraine war, a lot of fall out was observed even in faraway countries as grains, gasoline petroleum products became in short supply, showing that what happens in one remote place can affect others, and if you are producing vaccine in one part of the world if anything happens to that particular continent, the rest of the world will suffer."
Adding: "I had always advocated for a multi-focal approach to vaccine production as a matter of global health security issue. Apart from the Ministry of Health, many people here will recall the agony we suffered when the COVID-19 vaccines were first released.
"Those who produced these vaccines were taking care of themselves without leaving any room for Africa and that was when the President declared vaccine manufacturing a national security item. we have been at that, preparing and working to indigenously have a vaccine production site
"We have troubled NAFDAC until we got the WHO Maturity Level 3 which allows us to regulate vaccine manufacturing in Nigeria, and we are gunning for Maturity Level 4. So, with Prof Pate in charge of GAVI Vaccine Alliance, our chances are again improved to support the capacity to the manufacturing of vaccine."
The Minister urged Prof Pate to support Nigeria's ambition to commence local production of vaccines.
Ehanire, who described Pate's appointment as well-deserved, said: "I received the news of the appointment of Prof Pate with great excitement. He is someone I have so much respect for and he deserves that position.
"He is the first Nigerian and also the first African to hold that position. It was a validation because entrusting such a position to Nigeria is also saying something about us. Not long ago, we got very good news that we are getting to be in the good books of the Global Fund because not too long ago, they gave us a very generous grant, the largest grant they have ever given to any country. These are expressions of faith and confidence in all the processes that this country has put in place, and also a recognition of the new image of the country.
"This is a very glorious appointment; we celebrate it. We have seen all the places Prof Pate has been to, the Expanded Programme on Immunization (EPI), the National Primary Healthcare Development Agency (NPHCDA), the Ministry of Health, the World Bank, Harvard University and now, the GAVI. That is a string of achievements.
"Before then, he had his footprints at the Ahmadu Bello University and Balewa College. GAVI is lucky to have Prof Pate as its CEO, with his pedigree in almost every areas of public health. GAVI is very lucky to have you. We will support you, it is a declaration of more confidence in our country", the Minister said.
Also speaking, Minister of State for Health, Hon. Ekumankama Joseph Nkama said that Pate was appointed the Chief executive of GAVI based on his accomplishments, adding that Pate will make the nation proud in his new office.
On his part, the Chairman of, the Senate Committee on Health, Senator Ibrahim Oloriegbe, stated that Prof Pate has the intellect, capacity and ability to achieve, adding that Nigeria has an opportunity to support the celebrant to succeed so that he can also support routine immunization and primary healthcare in the country.
The Board of GAVI approved the appointment of Pate as the Chief Executive Officer (CEO) of the Global Vaccine Alliance following an extensive recruitment process.
He was selected following a year-long recruitment process personally overseen by the Chairman of the GAVI Board, Prof José Manuel Barroso. Pate is expected to resume the role on August 3, thereby replacing Dr Seth Berkley, who will be stepping down after 12 years.